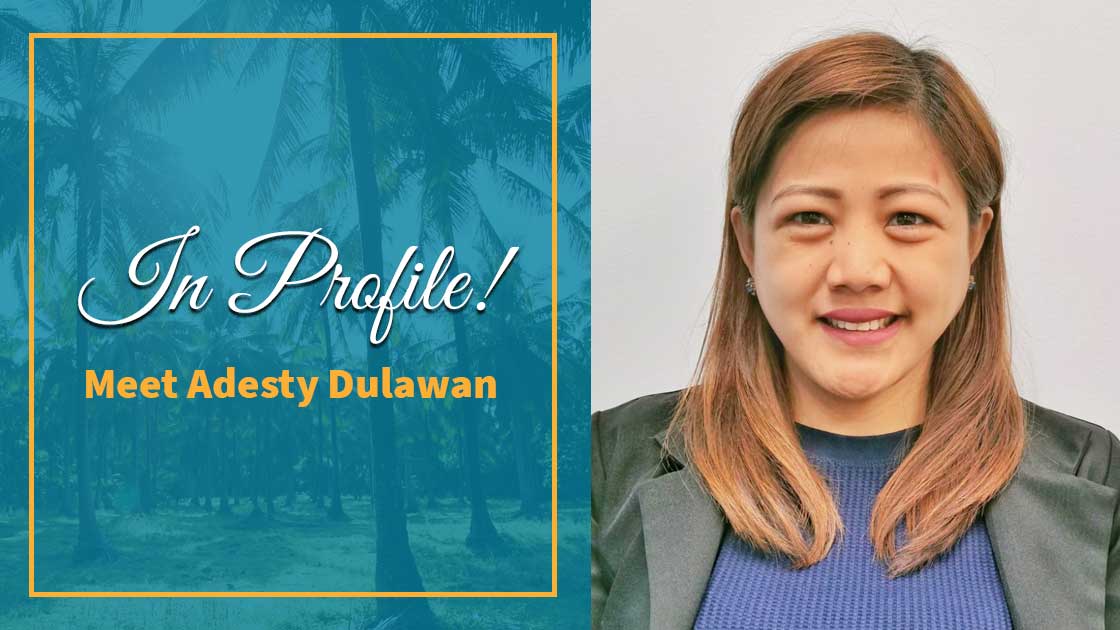 In Profile! Adesty Dulawan
World Hope International is staffed and led by an incredible team of passionate professionals around the world. Meet Adesty Dulawan, WHI's Clinical Supervisor who spends her days tackling the issue of online sexual exploitation of children in the Philippines. How does someone get involved with such a challenging and deep issue? How do they begin to make a difference?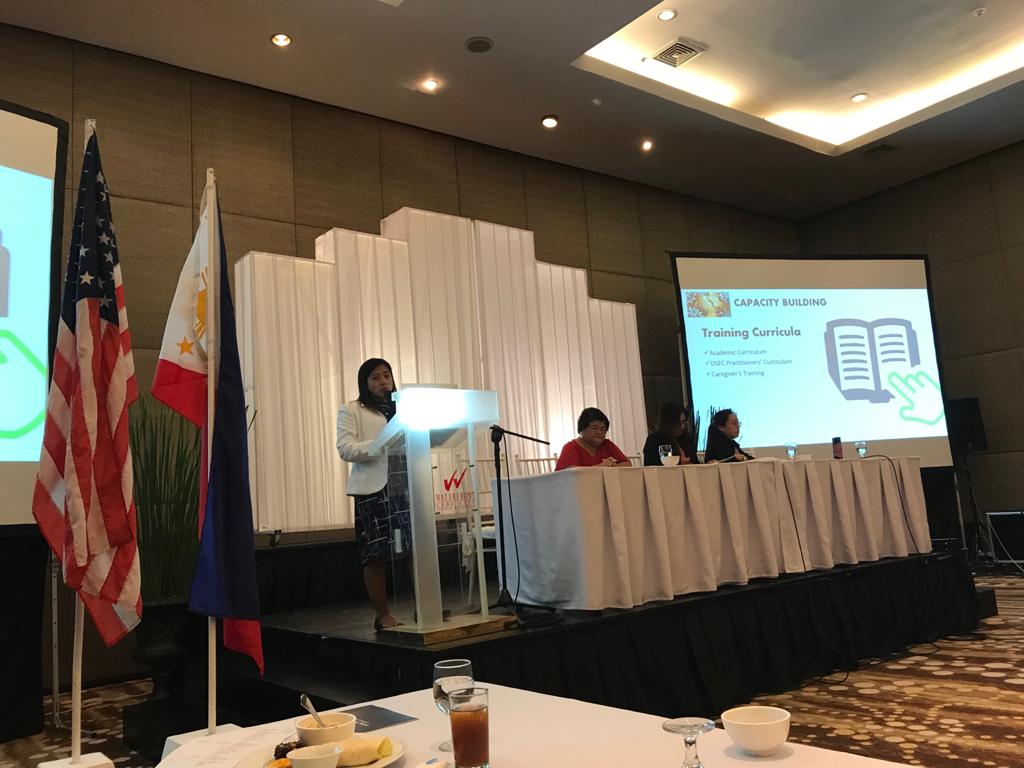 Adesty presenting at a recent conference on the Child Protection Compact (CPC) in the Philippines
As Adesty described it, for her, "My career choice started initially as simply being interested with people—how they live their lives, how they think, and how they respond to situations. And then I became part of the peer counselors' club in highschool then took up psychology in university. Eventually, I realized that I want to be a vessel of healing and hope and being a counselor is an avenue to do so."
She will tell you that she got involved in the most ordinary way possible: an opportunity came up and she was willing to take it. In early 2018, she came across a WHI job posting for a clinical supervisor role at the Protecting At-Risk Children Vulnerable to Exploitation (PAVE) project. While there were elements of the role that seemed challenging, she was captivated by it—and the more she learned about PAVE, the more she wanted to be a part of its mission.
PAVE was created in response to the growing epidemic of the online sexual exploitation of children (OSEC)—a global problem with an epicenter in the Philippines. Partnering with the project would involve collaborating with a variety of stakeholders to equip social workers with resources and training. In turn, this would empower those social workers to help locate, protect, and guide OSEC survivors through their trauma. To support this work, PAVE aimed to strengthen systems already in place for identifying and caring for these survivors.
But how did OSEC come to be such an issue?
The answer is intuitive: OSEC is exactly as young as widespread internet and high definition video. As internet use becomes more accessible and a part of everyday life around the globe, the potential to abuse it also grows. One of the challenges confronting those who are working to address the issue is the lack of an established precedent for clinical care of OSEC survivors.
This was the environment that Adesty stepped into when she took on the role of clinical supervisor with PAVE. She recalls thinking that she would be confronting issues standard to social work, but the issues confronting PAVE were far more complicated than she anticipated. The program was in its infancy, and it already faced roadblocks that were cultural, logistical, structural, and relational in nature.
"I realized that I want to be a vessel of healing and hope and being a counselor is an avenue to do so."
It was absolutely overwhelming at first. There was a huge need to help these children, and yet one of the first problems Adesty encountered was how to go about providing that help. Her previous experience and education had equipped her with tools and scenarios to recognize and respond to a variety of traumatic situations, but OSEC was something entirely different. "The children come to us not really presenting the typical trauma seen in sexually abused children," Adesty related. What is it about this type of abuse that is so different?
The ability of technology to erase barriers of distance and commitment while maintaining the illusion of security is a key factor. The abuse often takes place in a livestream setting within the confines of the home. Perpetrators are often close friends or family members; the victims are sometimes as young as two years old. The normalization of the abuse, coupled with the externalization of the audience, can have a devastating effect on the developing child. As Adesty quickly discovered, more than anything, the experiences are often confusing for the survivor, with some feeling only a vague sense that something was not quite normal or right.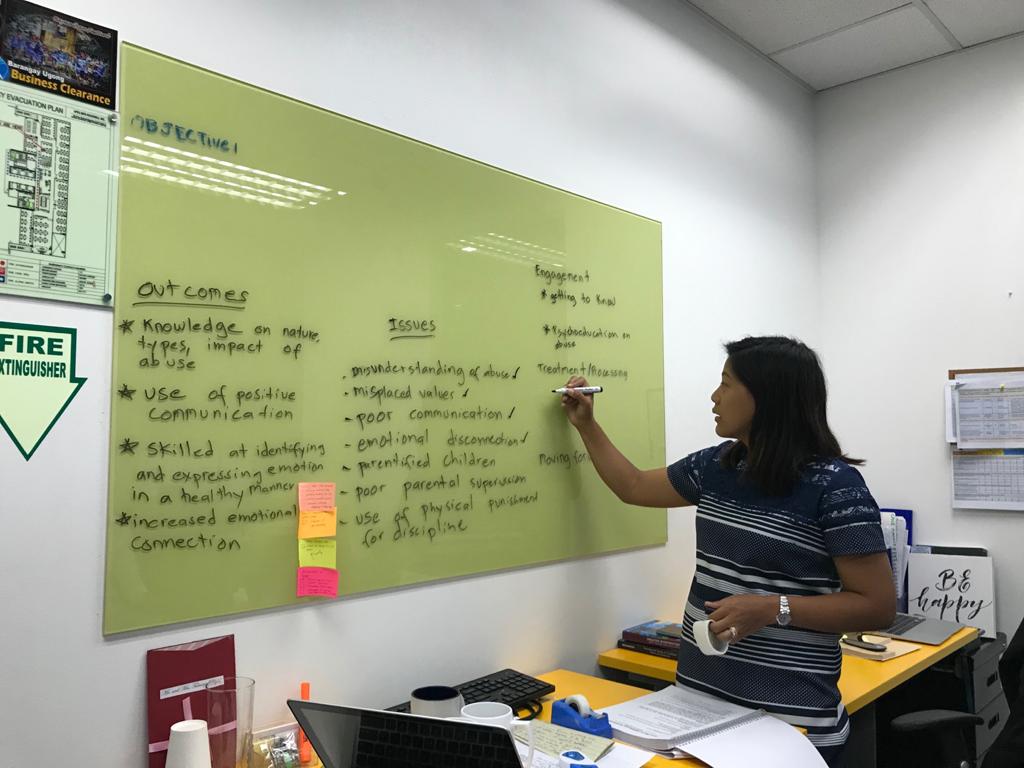 Adesty in the office during a team planning session
Adesty shares that she loved the process of finding answers and conducted extensive literature reviews on anything which remotely related to the topic.
Alongside her reading, she also worked with care providers to form focus groups and review different forms of interventions. There were no simple answers. Even one of the most promising forms of trauma therapy, a method of narrative reconstruction known as Trauma-Informed Psychosocial Processsing (TIPP), required a level of self-awareness, recognition of abuse, and linguistic ability which was beyond the ability of some of the survivors. Even in children who met those criteria, there were cases where TIPP alone was not the correct response: some of those able to construct a narrative focused on the trauma of their rescue.
Each of these complications presented a new way to understand the issue. 
As they engaged with their research, Adesty and the PAVE team began creating a toolkit for understanding the needs of each child and matching the appropriate combination of therapy to each case. Some of the tools include TIPP, Game-Based Cognitive Behavioral Therapy, and use of expressive arts therapy.
Developing the tools was only half the battle however: it was time to pass the knowledge and training on to the overworked social workers directly involved with the OSEC survivors. Adesty and the PAVE team implemented ongoing focus groups, coaching opportunities, and group trainings. The successes these trainings brought were encouraging and allowed Adesty to engage with some of the other challenges in the area of OSEC.
"My favorite part of my job is doing therapy with the survivors and seeing them heal from their painful past. Nothing is more rewarding than witnessing them being restored from being victims to being survivors."
For Adesty, one of the biggest challenges in addressing OSEC in the Philippines is pushing for family-based care—which means that children can reintegrate into the community after they have experienced successful intervention. 
In her experience, removing a child from a situation of abuse is a huge priority, but it is not enough. There are risks involved in returning the child to community after successful trauma intervention, even if the original perpetrator has been removed from the home or community. Sometimes there is more than one perpetrator, or the community itself may be unhealthy and can repeat the cycle. "It can be very difficult to identify healthy, capable and innocent relatives for the child to reintegrate with," Adesty explains, as there may be other preexisting forms of abuse in play. She works hard with her team to identify solutions that will work best for the child survivors and take into account their community and existing structures.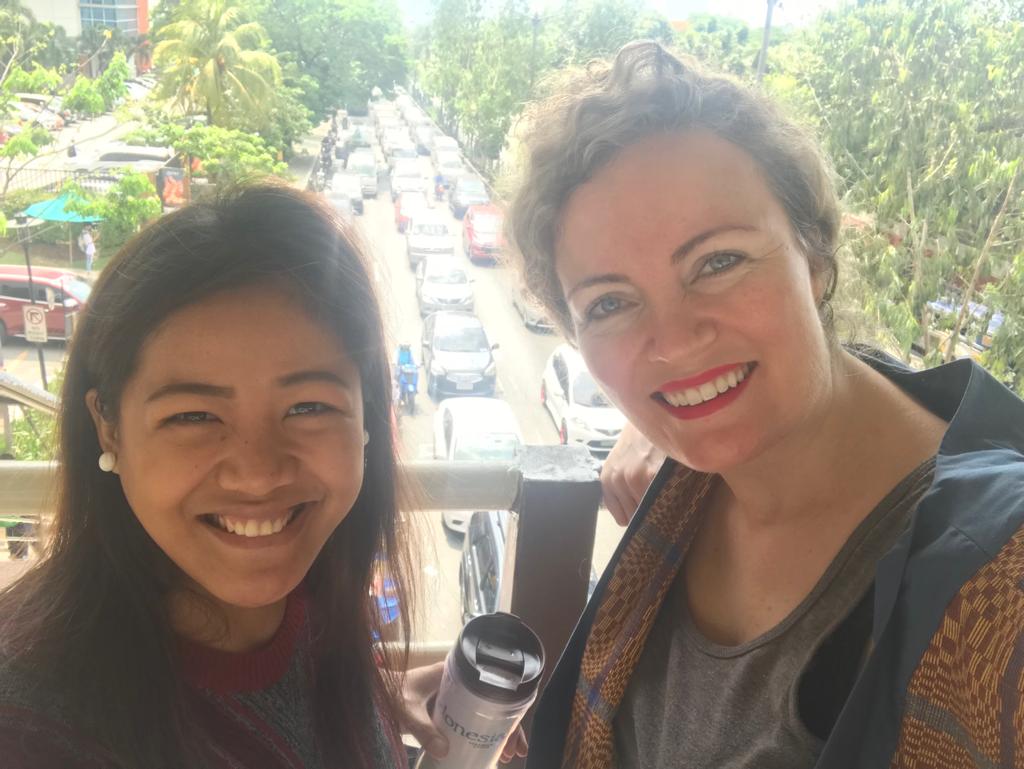 Adesty and Haley Clark, WHI's Director of Anti-Human Trafficking and Gender-Based Violence
While the challenges are numerous, the success stories speak to the difference that Adesty and the PAVE team are making alongside their partners in the fight against OSEC. For Adesty, there is no typical day on the job. "It varies because the program is multi-faceted. It can be meeting with partners for networking and partnerships, planning out and delivering training activities, supervising staff with case management."
Every social worker who receives training and mentoring and evidence-based intervention tools is better equipped to impact the lives of these children. Every community member who learns to identify the signs of online exploitation is better equipped to protect their community. Sometimes people become heroes in the most ordinary way possible: by seeing an opportunity to make a difference and taking it.
When she isn't working to address OSEC and equip social workers, survivors, and their communities with the tools they need to succeed and heal, Adesty enjoys reading books and travelling to see sights and experience different cultures. 
Learn more about the PAVE project or read this story to find out more about the practice of healing through games.
You can support WHI's efforts to empower, protect, and build resiliency around the world by giving to The Hope Fund.
If you are interested in partnering with WHI on addressing OSEC in the Philippines, contact us today at +1-613-482-1499 or by email.