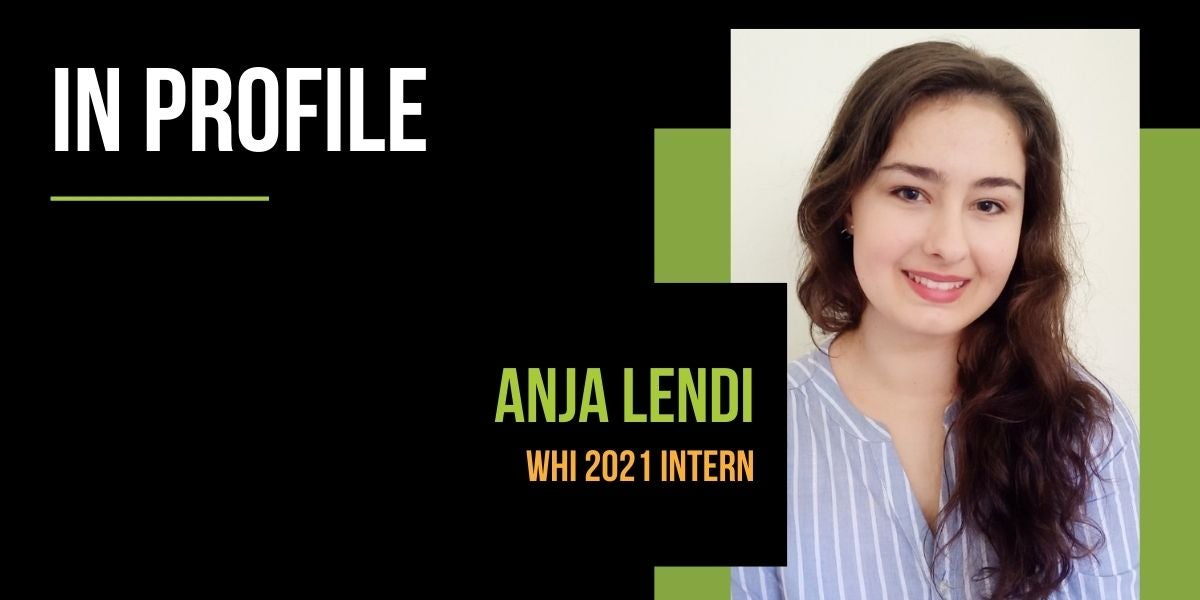 Spring 2021 Intern: Anja Lendi
Meet intern Anja Lendi! Anja is interning in the Communications and Marketing Department of the World Hope Global Alliance, based out of World Hope International –  Australia. 
Completing her Bachelor's degree and navigating the ongoing COVID-19 pandemic is already a lot to manage. Anja, however, added a virtual internship with World Hope International into the mix, supporting not only WHI – Australia's communications and marketing campaigns and WHI – Australia's CEO, Ruth Thomas, but also contributing to the global communications desk with blogs, social media, design, and more.
Keep reading to learn more about Anja!
How did you first get connected to WHI? What made you look into interning with us?
"It's actually a quite funny story. The church I used to attend when I was still in high school was very involved in WHI and I was always amazed by the things they were accomplishing. After several years of not thinking of WHI, a mutual friend connected me to Ruth after she heard I was looking for an internship. I am so grateful to have been set into contact with Ruth and overwhelmed with the positivity and kindness you spread into the world."
Out of the many types of projects WHI is involved in, which do you feel the most passionate about?
Education
Bachelor of Business Management/Bachelor of International Hotel and Tourism Management majoring in Marketing and Hospitality at University of Queensland, Graduating 2021
About me
I am…kind, loyal, enthusiastic, and positive
Fun fact
I was born in Switzerland and when my family moved us to Australia, I had to learn English from my friends in my new school. Because my English was non-existent, we communicated through various games of charades. One particular funny instance was when I was trying to ask why shoes were hanging from powerlines, resulting in a very lengthy and confusing charade that left us all in stitches. And we still laugh about it to this day.
Some of my favorite things
My favourite animals are horses. I rode for several years when I was younger and am still constantly amazed by the power, intelligence, and the grace those animals have. I have always loved to cook and especially bake. My absolute favourite thing to make is brownies.
"I have always said that in whatever I do, I want to help someone somewhere. So to work on several projects that help people in need is a dream come true for me. I am particularly passionate about providing equal rights and access to everyone, such as WHI work with providing aid to disabled children in Sierra Leone."
"I immediately loved all the work World Hope does in Sierra Leone with kids affected from disability in some way. I have had previous experience with disabled children in struggling countries and I am acutely aware of the need there is for help and assistance."
What is your internship focused on and what have you been learning in that role so far? 
"I am currently working on the Walk4Hope fundraiser, where we're hoping to raise money to bring wheelchairs to disabled children in Sierra Leone. One of the main things I have learnt so far is that organising a fundraiser involves a lot more moving parts than I initially thought."
What are you hoping to learn and accomplish during your internship?
"I am hoping to gain experience in the marketing field and learn how a company functions over several international bases. I am hoping to learn how to integrate what I learn every day in my degree into projects that will make a difference. I am wanting to learn as much as I can from others and learn more about the incredible work WHI does. I wish to make a positive impact in the time I am with World Hope, and as much as I embarked on this internship to gain something, I hope that my contributions will be substantial and beneficial to the company as well."
How does this internship fit into your long-term or short-term career goals?
"This internship came as an unexpected part of my career goals, but it has shown me that I can use my degree to really help people and make an impact, compared to the ordinary corporate jobs business school often focuses on. It has opened my mind to new possibilities for my future career and I am very thankful for that."
What challenges or growth have you experienced while interning remotely during the threat of COVID-19?
"Remote learning has been difficult for me throughout COVID as I usually thrive of off face-to-face interactions. However, working with World Hope on projects that I am passionate about with people just as passionate and invested as me has reignited a spark in me that drives me to do the best I can."
We partner with students at accredited colleges and universities to connect their talents, passions, and education to internship opportunities in our office located in Alexandria, Virginia.
Click here for more information and email info@wordhope.ca to apply for current internship opportunities.