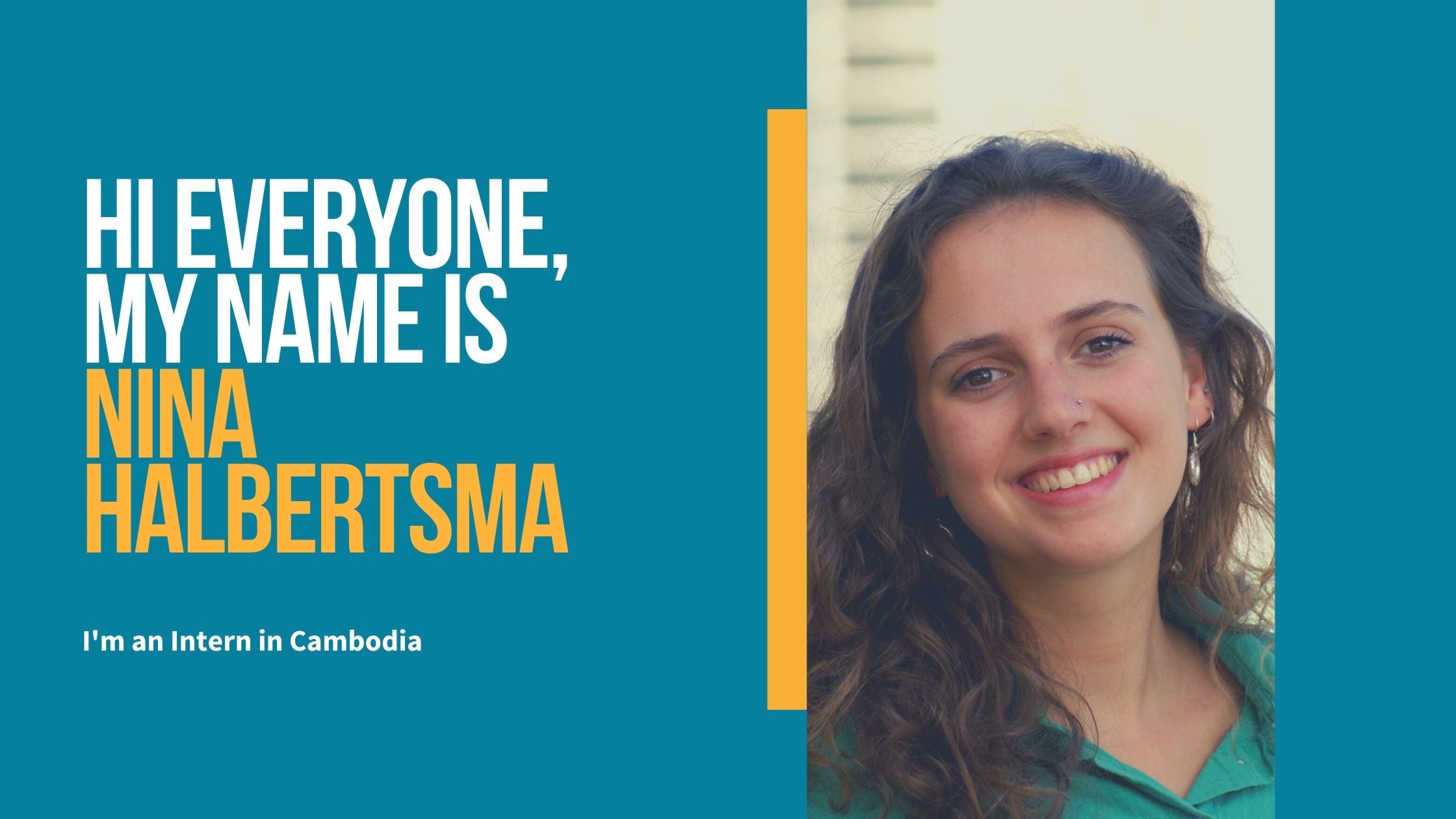 Meet Nina Halbertsma!
Meet Nina Halbertsma, who is interning in Cambodia at World Hope International's social venture, TapEffect.
Majoring in Political Science at the University of Amsterdam, Nina will be attending Boston University as an exchange student in the near future. While working with the TapEffect team, Nina has gained first-hand experience working with water and sanitation and hygiene (WASH) and has been learning about the importance of access to clean water, especially during pandemics. Here's her thoughts on her internship experience so far! 
How did you first get connected to WHI? What made you look into the internship?
"For me, it was all about location. I had a profound interest in moving to Cambodia for a couple of months because I wanted to get actively involved in the community there. I was very fortunate to have been put in contact with Nick, who is the CEO of TapEffect, who kindly had an opportunity for me. I am very grateful for this opportunity as it was exactly what I was looking for – somewhere I could learn a lot, become active in the field, but most importantly, work for a company that has an enormous social impact."
Education
I major in Political Science at the University of Amsterdam, however, I will be going on exchange to Boston College next semester!
About me
I am…Social, determined, motivated and diligent
Fun fact
For most of my childhood, I grew up in a houseboat on an outlying island in Hong Kong.
Some of my favorite things
I love everything to do with traveling (and the beach)!
Out of all the work WHI is involved in, tell us what interested you in Tap Effect?
"By working for TapEffect and devoting my time to understanding the importance of piped (tap) water, I have become even more passionate about the need for everyone to have access to clean (piped) water. By living in a pandemic, we have all learned the importance of simple hygiene practices like washing hands – but what about everyone who does not have access to washing hands facilities? On top of this, having an accessible clean water supply has great social impacts, ranging from increased gender equality to an increase in school attendance and to also benefiting the health of many, especially children. This is why I am so passionate about the need for everyone to have access to clean, safely managed water,
i.e. piped water."
What is your internship focused on and what have you been learning in that role so far? 
"As part of my internship, I have three main responsibilities: writing a report to showcase the benefits of tap water and the many links it has to a variety of SDGs, writing a report on the necessity of connecting piped water to health care facilities and schools, and lastly I am going to write a case study on a current water system built by TapEffect, and funded by WHI, in Banteay Meanchey. All of this has and will involve field trips to gather primary data. The trips I have been on so far have been thoroughly insightful and I feel very fortunate to have experienced these. It has all been eye-opening and made me more passionate about the project. Overall, through this, I have learnt more practical skills on doing research, increased team collaboration skills and am learning how to write differently formatted reports, including business models and case studies."
What are you hoping to learn and accomplish during this internship?
"For me, this internship is all about me wanting to learn. I came here wanting to learn more about how NGOs and Social Enterprises work, to gain some practical experience in the field, learn more about the WASH sector and learn more about Cambodia as a whole. But apart from this, I also came hoping that I could make a positive impact in TapEffect by using the skills I have learnt at university, as I believe strongly in TapEffects goals."
How does this internship fit into your long-term or short-term career goals?
"I hope to do a masters in public health, so working and gaining experience in the WASH sector is very important for me. In addition, gaining an insight into how NGOs and social enterprises work is beneficial for my potential future career path."
What challenges or growth have you experienced while interning remotely during the threat of COVID-19?
"Luckily for me, I have not had to work remotely due to Covid. However, I did start my internship during my two-week hotel quarantine. I was actually very grateful for this!"
We partner with students at accredited colleges and universities to connect their talents, passions, and education to internship opportunities in our office located in Alexandria, Virginia.
Click here for more information and email info@wordhope.ca to apply for current internship opportunities.