Food En Route to Hungry Haitian Pre-Trial Detainees & Inmates
In response to the crisis, four non-profits form a coalition to support individuals in Haitian prisons with food.
Port-au-Prince, Haiti, Dec 5, 2021 – Pre-trial detainees and inmates of 20 overcrowded Haitian prisons across the country will be steadily receiving life-saving food support over the next three months through a joint relief effort by non-profits World Hope International, Rise Against Hunger, Health through Walls, and AIDS Healthcare Foundation.
Despite significant efforts by the international community, the proportion of pre-trial detainees in Haitian prisons has continued to grow and reached 82% of the overall prison population.
This situation has resulted in extreme overcrowding in most prisons, and detainees have limited access to the outdoors and to sanitation services. Due to irregular and insufficient supplies, the ~11,000 prisoners and detainees have extremely limited access to food, water, and health services across the prisons, often receiving less than one meal per day.
Malnutrition makes persons more susceptible to infectious disease, and once infected, more likely to have a poor outcome. Malnutrition also exacerbates chronic diseases. To respond to all these needs, the Haitian Prison Authority needs more capacity as per Dr. John May, HtW President.
In response to the crisis, Rise Against Hunger has committed 12 containers of food from across the United States to feed this population for three months. World Hope International will manage the logistics of transporting and importing the food into Haiti, and Health through Walls and AIDS Healthcare Foundation will distribute the supplies to the 20 prisons across the mainland.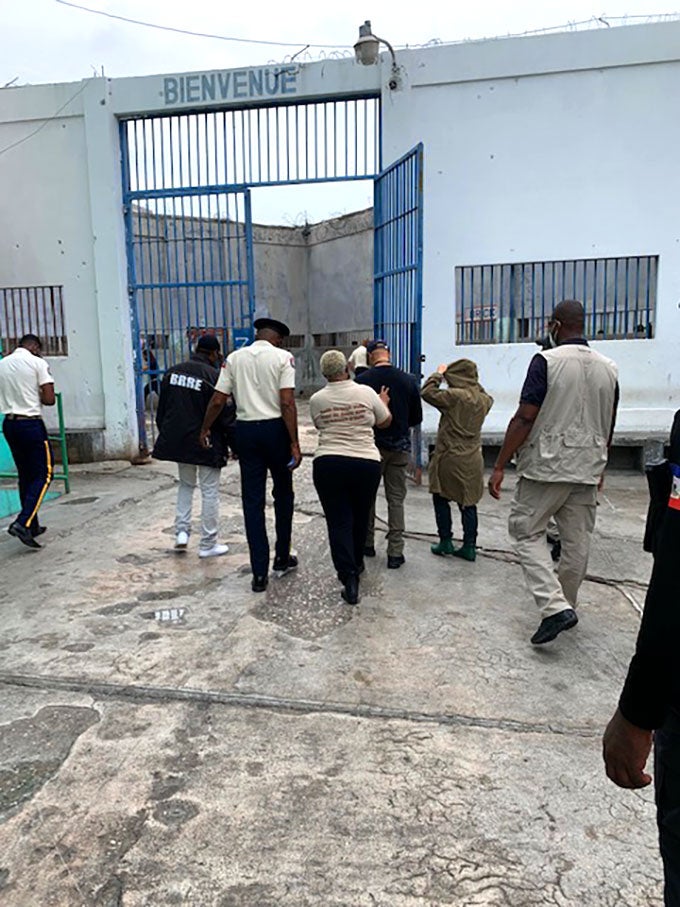 Entering a Haitian Prison Facility – photo courtesy of Health through Walls, Inc.
"World Hope International has been operating in Haiti since 1996 and we just completed some similar logistics support for partners in response to the earthquake in August," said John Lyon, World Hope International's former CEO & President. "We believe everyone should have access to food and other vital resources like clean water. We're glad to be able to form this relief consortium with Rise Against Hunger, Health through Walls and AIDS Healthcare Foundation to ensure that these detainees and prisoners are getting the sustenance—and hope—they need during this difficult period of time in Haiti."
"As the effects of August's 7.2-magnitude earthquake, political unrest and increased turmoil have been felt across Haiti, Rise Against Hunger has been especially focused on supporting the food security needs of the Haitian people," said Barry Mattson, Rise Against Hunger's CEO. "During this time of crisis, in addition to supporting school feeding programs and communities affected by the earthquake, we are also supporting individuals in prisons across the country who only receive food sporadically. Access to food is a basic human right, and the meals provided by Rise Against Hunger will ensure that people in detention can have a consistent source of food. The joint efforts only underscore the complex nature of working in Haiti, and we are eager to collaborate with these organizations to meet this humanitarian need."
For media queries, please contact:
Heather Hill
World Hope International
Hannah Payne,
Rise Against Hunger
hpayne@riseagainsthunger.org
Mikson Antoine
AIDS Healthcare Foundation and Health through Walls