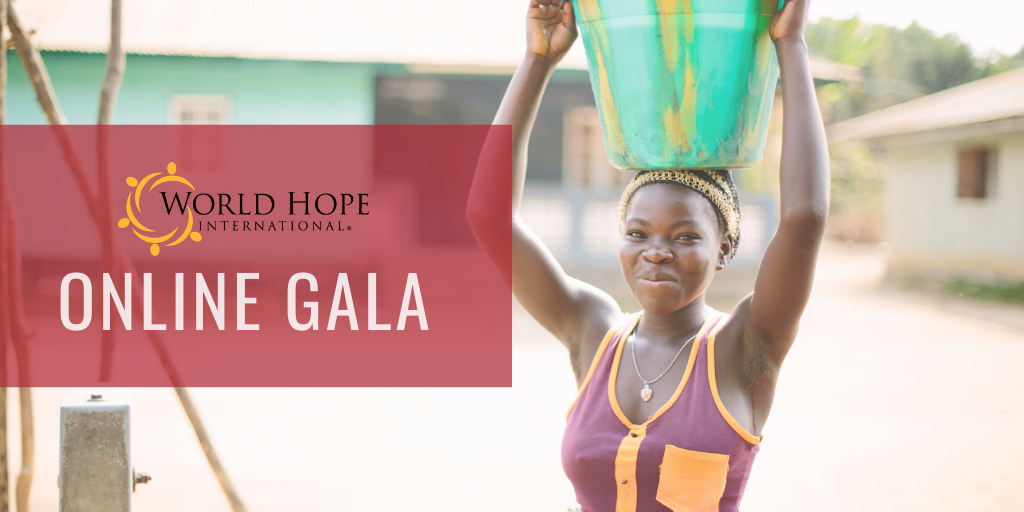 Celebrating the Passionate Purpose
Wow, what a night! World Hope's first-ever Online Gala could not have gone any better.  Our community stepped up and we all experienced 37 feel-good minutes of good news. 
We raised donations for The Hope Fund to strengthen our programs and respond at any moment's notice when the need arises among vulnerable communities. Here are some of the highlights from the gala:
This was the most humbling, down-in-the-dirt, boots-on-the-ground, fulfilling, gritty, fantastic, rewarding type of experience I have been involved in. I plan to continue developing a long-term partnership with World Hope International!
Bahamas: Lives Saved, Roofs Restored
Our Canadian Bahamas relief volunteers stepped up with life-changing stories of lives saved and shelter provided after Hurricane Dorian tore through the islands last fall. What a joy to see how clean water spurred Bahamians on with hope as they worked to rebuild their lives and livelihood. Special thanks to Dave Rowe, Aaron Reimer, Nathan, Jenn, and Olivia Adams, and Deborah Gilbert for sharing your experiences.
I was inspired by Mike Zottarelli's story about a woman who was praying for a new roof. Before she could say "amen" there was a knock on her door and a World Hope volunteer asked if we could rebuild her roof!
Cambodia: TapEffect Providing Protection and Dignity
Deborah Gilbert recounted a story of two young girls in Cambodia. Thanks to TapEffect, they will be able to access clean, piped water directly into their home. They were so excited to have a clean bath! She also shared about the importance of the sun. World Hope uses solar-powered filtration systems around the world including the country of Sierra Leone and on the island of LaGonave in Haiti.
Clean water changes lives not only by keeping disease away but by providing women and children with the opportunity to further their education. When they no longer need to spend hours each day with water collection, they are able to give more time to education and to build a stronger community.
By having safe, piped water… it gives children more time to study, spend time with their peers and have play time.
Ukraine: Creating a House of Hope for Young Girls
Haven Rhoda and Ben Last described their experience at Hope House – Ukraine and how taking the leap to join a vision trip was personally transforming. They discussed the immediate warmth and love that radiates from the leaders and participants at Hope House and how partnering financially with this project helps to rescue girls from a life on the streets and provides them with education and a place in society as a change-makers!
Amazing Donors: Thank you!
Impact happens when a group of people come together for a common goal and that is exactly what happened during our online gala. Thank you for your generostiy!
Thank you to our event sponsors and the volunteers who shared their stories. I would also like to acknowledge Hayley Bohan, Founder of Marketing on Purpose who helped push the vision of this event forward and Mitch Beattie of Beattie Films who created an inspirational video.
Watch our online gala here: