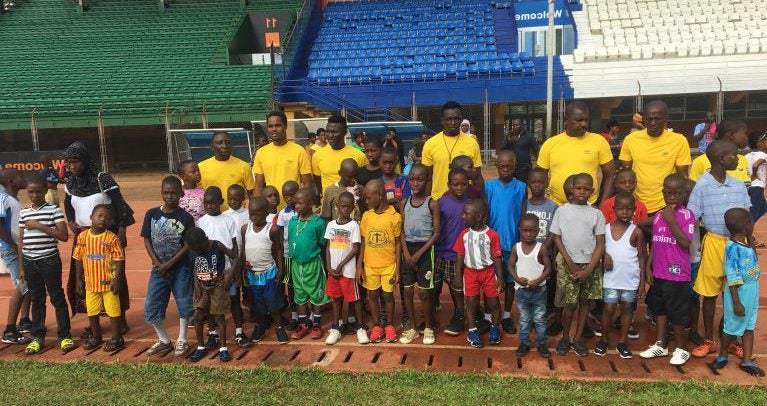 A Goal To Empower
Saturday, May 18th, was a special day for close to 60 children living with disabilities and their families. These children had the opportunity to participate in a 2-hour "football" (soccer) training session at the National Stadium in Freetown, Sierra Leone. Organized and run by World Hope International (WHI)'s Enable The Children program, it was a lot of fun and it helped show the community that kids with disabilities have the same desire and ability to play football that other children have.
One of the participants in the event was  Ibrahim*, who is a bilateral lower-limb amputee. Ibrahim was able to move around the soccer field with ease despite the fact that he has no legs. Robert Brugler, a member of the support staff with Enable The Children (ETC), was inspired by Ibrahim and described a beautiful moment during the event. "When he (Ibrahim) lined up to shoot on goal, you could tell that many in the crowd did not expect much of him. However, when he placed the ball in the upper right-hand corner of the net with a swift kick, the crowd erupted and were amazed at what they just saw. I love seeing peoples' minds be changed by the determination of the human spirit." Ibrahim inspired the staff, families, and community members with his determination and skill at the sport.
Sierra Leone culture loves the sport of football and many schools in the area host sports days for the students to attend and be cheered on by family and friends. That is why ETC wants to host more of these events in the future: to give children with disabilities the same opportunities as other children in their communities. This event empowered not only the children but also their families and allowed them to show off what they have accomplished.
"The coaches and families made these kids feel special and you didn't have to look any further than the smile on the kids' faces that went from ear to ear."
The children who attended the football event left with smiles on their faces and pride for what they had learned and done. Events like this give children living with disabilities opportunities and also demonstrates to the community that every child has value and can play sports like anyone else.
*Name changed to protect his privacy
ETC is a WHI program made up of local and expatriate staff who provide physiotherapy and occupational Therapy, care, and support services to children living with disabilities in Freetown, Sierra Leone. Learn more about ETC and events that empower children with disabilities in Sierra Leone and check out this blog to see how our ETC program is helping to meet several of the 17t Sustainable Development Goals set by the UN. Consider getting involved by sponsoring a child with special needs or supporting this and powerful projects like it with a gift to The Hope Fund.